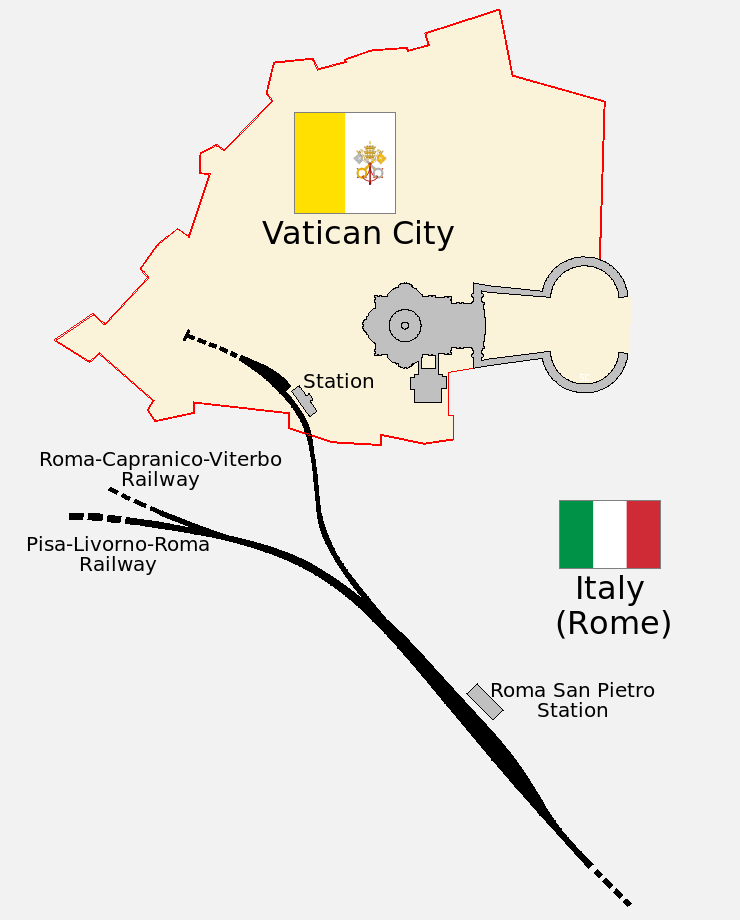 Map created by Arnaugir via Wikimedia
The map above shows the extent of the Vatican City's railway system (Holy See railway). With just two 300 metre sets of tracks and two freight sidings measuring a total of 1.27km (0.79 miles), it's the shortest railway system in the world.
The system has just one station, with the rather original name of: Vatican City railway station (Stazione Città del Vaticano/Stazione Vaticana). In addition to handling passengers and goods it also has a small Vatican tax-free department store, which is only available for diplomats and the 842 Vatican subjects.
Work on the Holy See railway began in 1929, shortly after signing of the Lateran Treaty which founded the Vatican City State, and was completed in 1934.
Yet, this was not the first time the Pope had his own railway system. The Rome–Frascati line opened in 1856 under Pope Pius IX in the Papal State. However, the Papal State effectively ceased to exist just 5 years later, when it was absorbed into the modern Italian State.
The Vatican City Railway cost 24 million lira to build, (just over $1 million) and was entirely paid for by the Italian government of Benito Mussolini. Being so short, it should have been relatively easy to make sure the trains ran on time.
There are no regularly scheduled passenger services to or from the Vatican City.
However, as of September 2015 there is "a specially chartered train that leaves every Saturday for a round trip journey to Castel Gandolfo [Papal Summer Home], just 13 miles away."
Enjoy this post? Please help by sharing it:
Stop throwing money away on train tickets!
Get e-mail notifications when
advance tickets
go on sale and
save up to 70%
: