Map found via reddit
Japan's Shinkansen "bullet train" network is the world's oldest and most used high-speed railway in the world. The map above charts its growth from 1964 until the present day and beyond.
The Tōkaidō Shinkansen between Tokyo and Osaka was the first line to open in 1964, just in time for the Tokyo Olympics.
That year, there were just 11 million journeys on the network. Yet, over the course of the next 50 years, 11 billion journeys have been made on Shinkansen trains, making it the most used system in the world by cumulative journeys.
Current annual ridership, on the other hand, is relatively stagnant at a little over 300 million journeys, making it the second most used network on an annual basis. First place China recoded over 440 million journeys in 2013 and this number is increasing rapidly.
The current Shinkansen network has 6 main lines (total length: 2,615.7 km/1,625.3 mi) and 2 Mini-shinkansen lines (total length: 283.5 km/176.2 mi), which puts Britain's 108 km (67 mi) High Speed 1 to shame.
They 6 main lines in order of opening are:
The two mini-lines are:
Yamagata Shinkansen – Opened in 1992 it runs between Fukushima and Shinjō (148.6 km/92.3 mi), operated by JR East.
Akita Shinkansen – Opened in 1997 it runs between Morioka and Akita (127.3 km/79.1 mi), operated by JR East.
Future lines in order of expected opening date are:
And if the growth and expansion of the network were not impressive enough, Japan has cancelled and/or shelved more plans than the UK is ever likely to build.
Some of these cancelled lines include:
The Narita Shinkansen – Narita to Tokyo
Hokkaido Shinkansen (northward extension) – Sapporo to Asahikawa
Hokkaido South Loop Shinkansen – Oshamanbe to Muroran to Sapporo
Uetsu Shinkansen – Toyama to Niigata to Aomori
Hokuriku-Chūkyō Shinkansen – Nagoya to Tsuruga
Sanin Shinkansen – Osaka to Tottori to Matsue to Shimonoseki
Trans-Chūgoku Shinkansen – Okayama to Matsue
Shikoku Shinkansen – Osaka to Tokushima to Takamatsu to Matsuyama to Ōita
Trans-Shikoku Shinkansen – Okayama to Kōchi to Matsuyama
East Kyushu Shinkansen – Fukuoka to Ōita to Miyazaki to Kagoshima
Trans-Kyushu Shinkansen – Ōita to Kumamoto
Want to get a better look at how the Shinkansen network looks today? Well here's the map for you: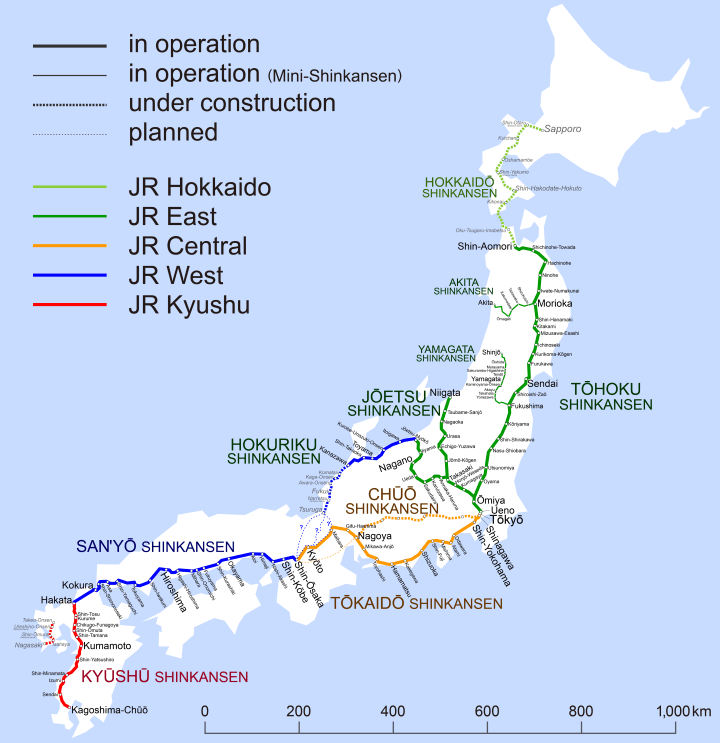 Map created by Hisagi via Wikimedia
Enjoy this post? Please help us by sharing it:
Stop throwing money away on train tickets!
Get e-mail notifications when
advance tickets
go on sale and
save up to 70%
: