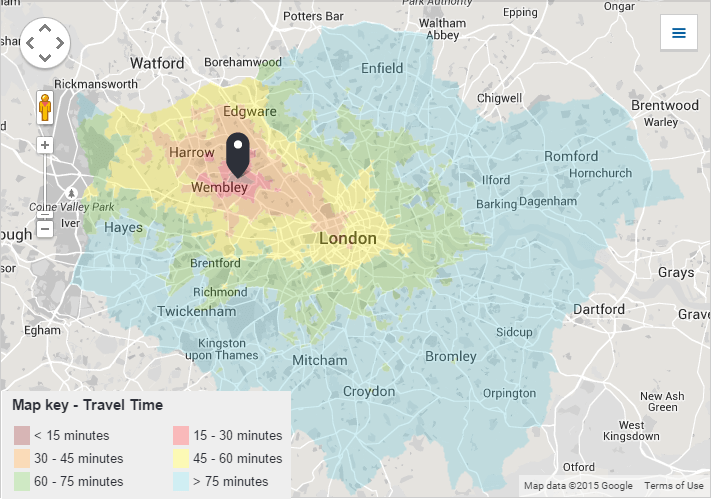 Travel Times to Wembley
These isochron travel time maps to each of London's major football stadiums were all created using TFL's WebCAT.
The service is primarily aimed at the planning community, but as these estimated travel time maps to London's biggest football stadiums show, the public can benefit as well.
The maps actually show how far you can get from each stadium using public transportation (including: National Rail, London Overground, Tube, DLR, Tram, Buses) in 2011. However, return travel times should be roughly equal.
The maps are rough estimates only and you should always check your journey using the TFL journey planner before leaving. You wouldn't want to miss the match!
All maps provided fall under TFL's WebCAT terms of use and Google Maps/Earth Additional Terms of Service.
Here are the 12 largest stadiums in London based on capacity. You can click on any map to zoom in.
1. Wembley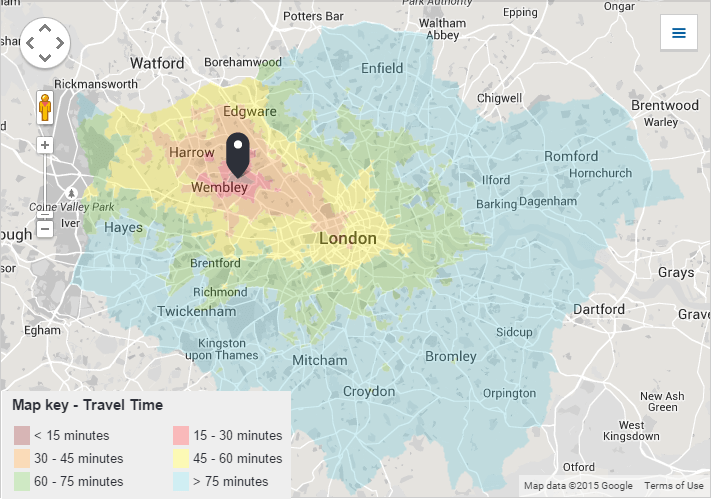 Travel times to Wembley
Team: None (England national football team)
Capacity: 90,000
Address: Wembley, London HA9 0WS
2. Emirates Stadium (Arsenal)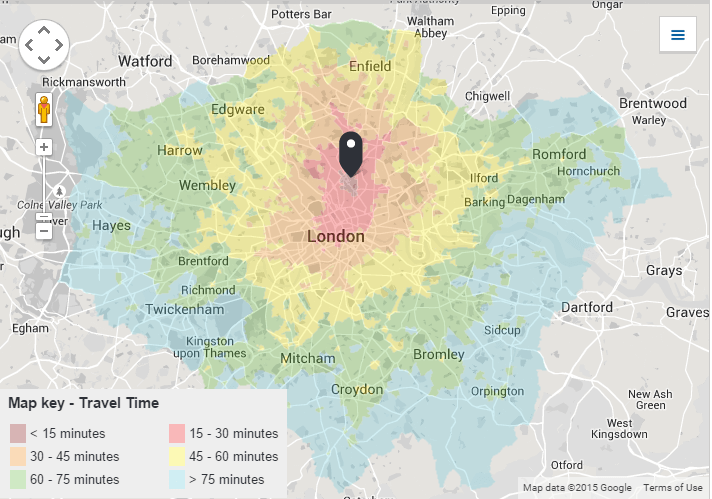 Travel times to Emirates Stadium
Team: Arsenal F.C.
Capacity: 60,272
Address: Hornsey Rd, London N7 7AJ
3. Olympic Stadium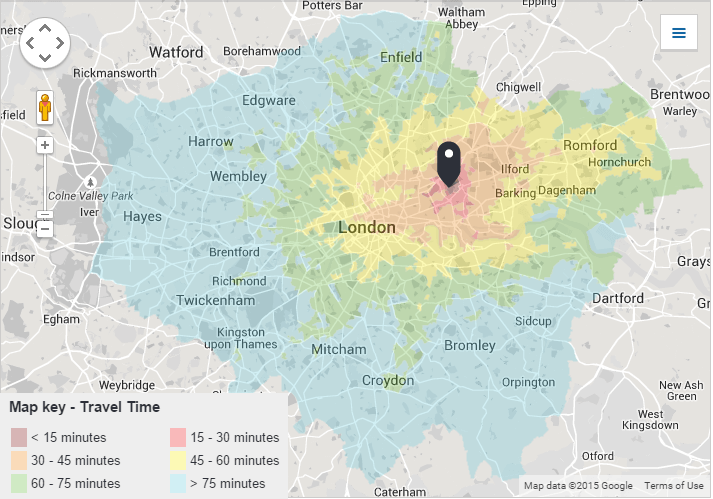 Travel times to the Olympic Stadium
Team: None (West Ham from 2016–17 season)
Capacity: 54,000 (when completed in 2016)
Address: Queen Elizabeth Olympic Park, London E20 2ST
4. Stamford Bridge (Chelsea)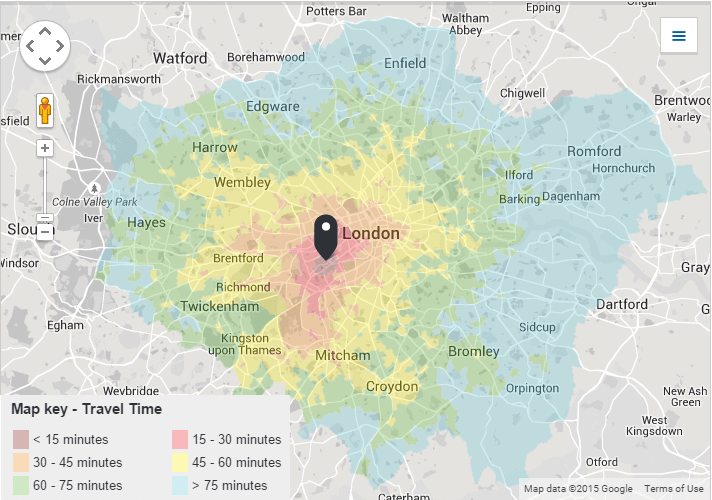 Travel times to Stamford Bridge
Team: Chelsea F.C.
Capacity: 41,798
Address: Fulham Rd, London SW6 1HS
5. White Hart Lane (Tottenham)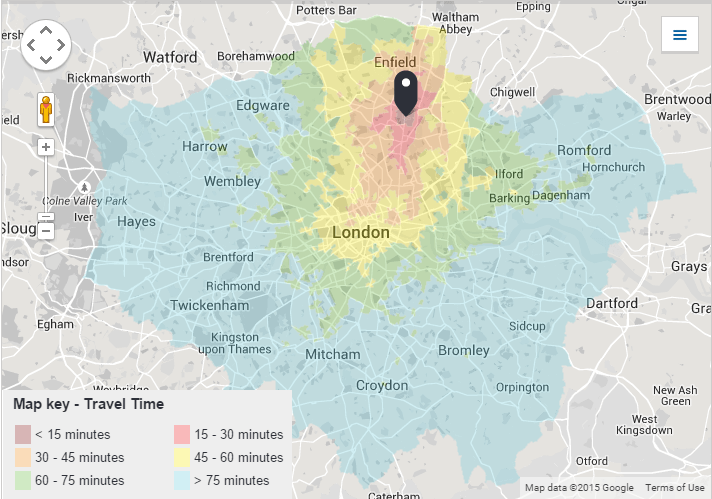 Travel times to White Hart Lane
Team: Tottenham Hotspur F.C.
Capacity: 36,284
Address: 748 High Road, Tottenham, London N17 0AP
6. Boleyn Ground (West Ham)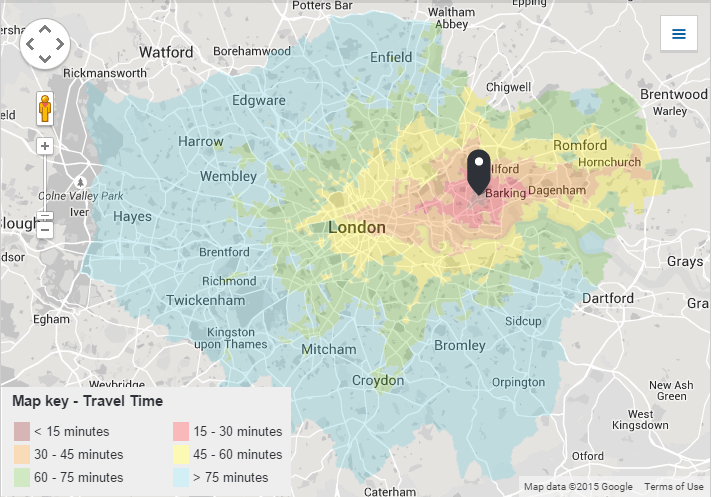 Travel times to Boleyn Ground
Team: West Ham United F.C.
Capacity: 35,016
Address: Green St, Upton Park, London E13 9AZ
7. The Valley (Charlton Athletic)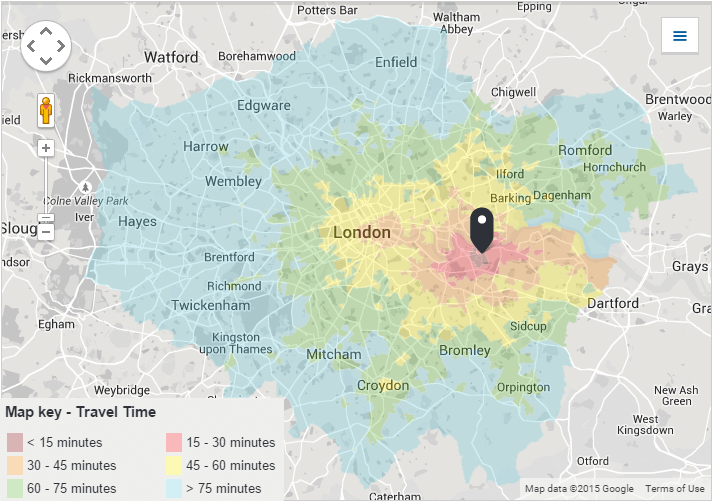 Travel times to The Valley Stadium
Team: Charlton Athletic F.C.
Capacity: 27,111
Address: Floyd Road, London SE7 8BL
8. Selhurst Park (Crystal Palace)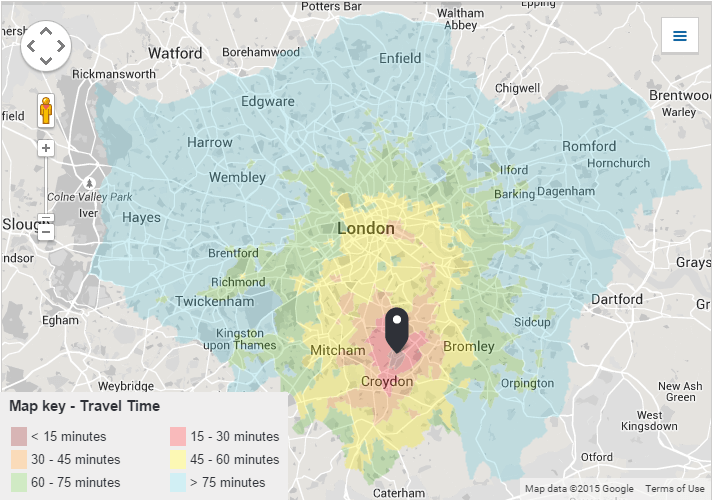 Travel times to Selhurst Park
Team: Crystal Palace F.C.
Capacity: 26,309
Address: Whitehorse Lane, London SE25 6PU
9. Craven Cottage (Fulham)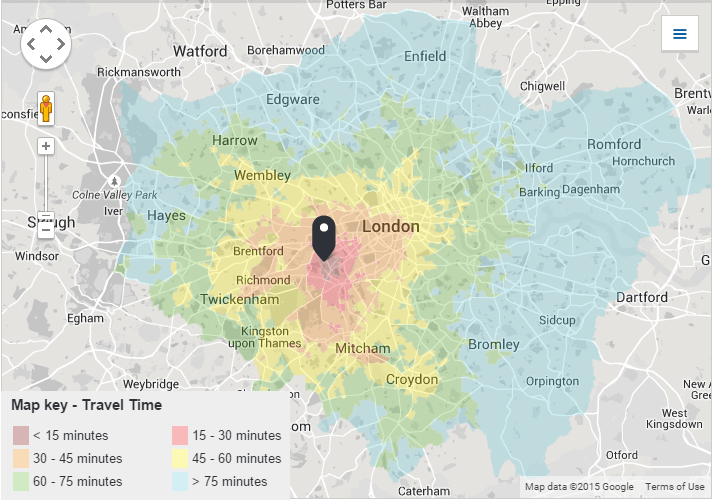 Travel times to Craven Cottage
Team: Fulham F.C.
Capacity: 25,700
Address: Stevenage Road, London SW6 6HH
10. The Den (Millwall)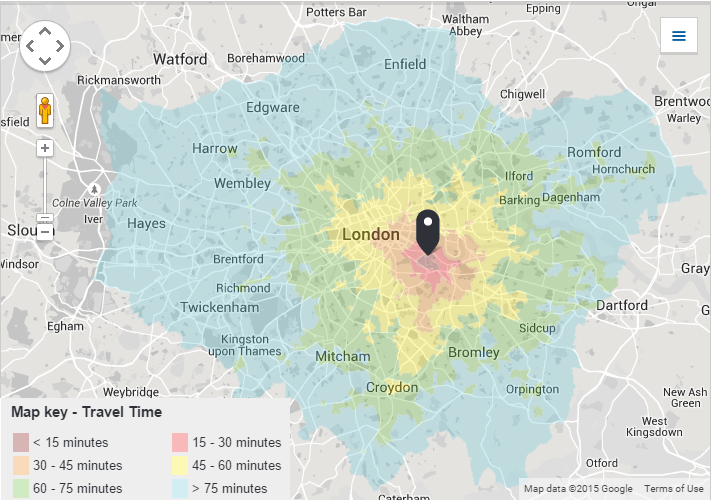 Travel times to The Den
Team: Millwall F.C.
Capacity: 20,146
Address: Zampa Road, London SE16 3LN
11. Loftus Road (QPR)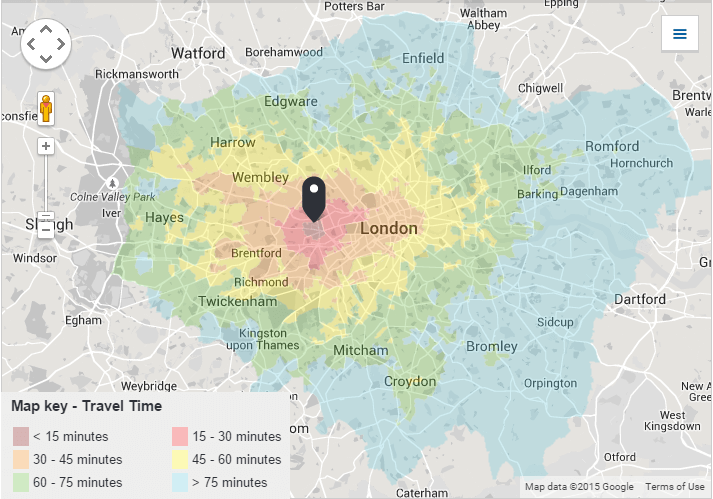 Travel times to Loftus Road
Team: Queens Park Rangers F.C.
Capacity: 18,439
Address: Loftus Road Stadium, South Africa Road, London W12 7PJ
12. Griffin Park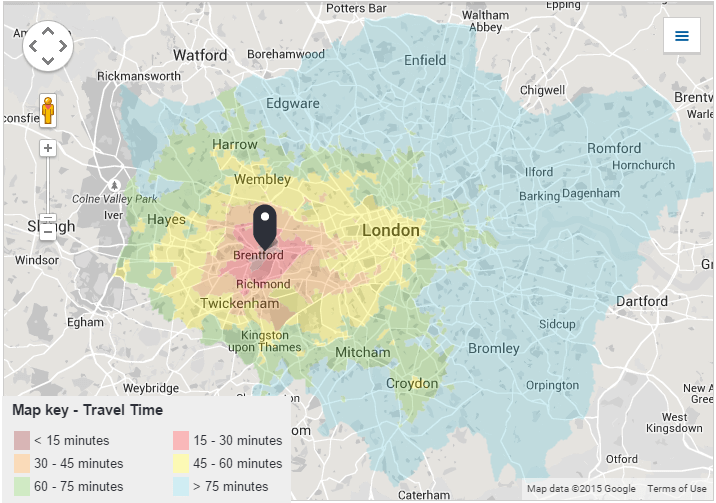 Travel times to Griffin Park
Team: Brentford F.C.
Capacity: 12,763
Address: Braemar Road, Brentford, Greater London TW8 0NT
Have any thoughts on the maps above? Leave a comment below:
Stop throwing money away on train tickets!
Get e-mail notifications when
advance tickets
go on sale and
save up to 70%
: