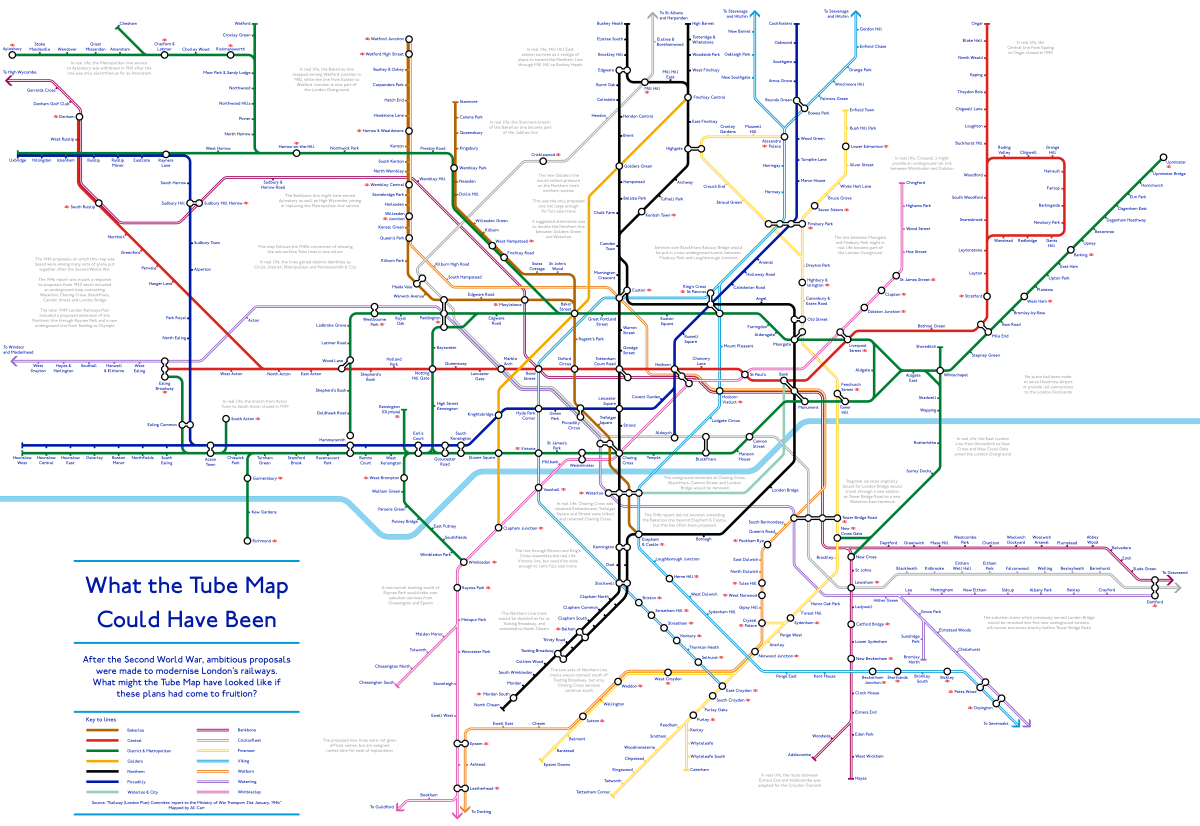 Map created by reddit user Not_Quite_Vertical (Ali Carr). Click for full sized version
The map above shows what the Tube Map might have looked like had proposals from 1946 had been implemented. The plans are nothing if not ambitious, especially for a country that still had rationing in effect following the devastation of World War 2.
The source for these plans was the Railway (London Plan) Committee: report to the Ministry of War Transport 21st January 1946.
Some highlights include:
The Northern Heights Plan extending the Northern Line all the way to Bushey Heath.
The addition of the following lines: Golders, Bankbone, CrickleFleet, Finsmoor, Viking, Watborn, Waterling, Wimbleclap. (Elements of which can be found in many current or proposed plans)
No Victoria, Jubilee, or Hammersmith and City lines (Metropolitan line is there, but shown in Green)
Metropolitan line going all the way Aylesbury and Central line going all the way to Ongar.
No Heathrow Extension
No DLR or other similar rail projects in the Docklands.
Massive new interchange station at Tower Bridge Road
Embankment station still being called Charing Cross and the existence of Trafalgar Square and Strand stations.
Many new stations including: Mount Pleasant, Ludgate Circus and Millbank.
The continued existence of many closed stations including: Aldwych, Holborn Viaduct, South Acton, and Shoreditch.
The Mainline terminals at Charing Cross, Blackfriars, Cannon Street and London Bridge would have been removed.
Still no Bakerloo line extension south from Elephant and Castle.
Find anything else you think is interesting? Then please leave a comment below:
Stop throwing money away on train tickets!
Get e-mail notifications when
advance tickets
go on sale and
save up to 70%
: